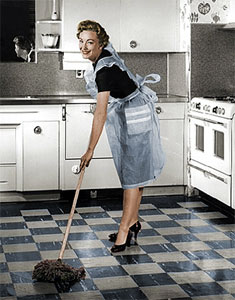 Okay... I so wish this were me! Let's be honest, I clean my house in sweats and I never have a smile on my face while I'm doing it!
With my new little business starting off, while still working at Babinski's, and trying to be the perfect housewife and mother, I just can't keep up! I need help! I'm not willing to give up being a mother, wife or my little business venture, but I'm sure willing to give up cleaning my house!
I am looking for a cleaning lady! Not just "merrymaids" or something like that, I want someone who I can get to know personally and trust leaving alone in my home. I want to leave with Tate for a few hours and come back to a sparkly, clean, fresh home- like magic!!
Does anyone have a great cleaning lady that they would recommend?
Thanks!
** Cross your fingers that I can convince Wyatt now... hmmm